From November 5 to 10, 2020, the 3rd China International Import Expo was held at the Shanghai National Convention and Exhibition Center. The total area of the corporate exhibition this year was 360,000 square meters, 60,000 square meters over the previous year and an overall increase of 20%. The enthusiasm of global companies to participate in the exhibition was unabated, creating fierce competition for a spot at the exhibition.
Hainle Winery once again went to the "Oriental Meeting" to represent the icewine and organic wine of Canada at the third China International Import Expo. To bring a refined lifestyle and the ultimate taste bud experience to Chinese wine lovers, Hainle Winery has participated in this "international feast" for the second time. It has already become an "old friend" of CIIE and Chinese wine lovers.
An unusual year, but a spectacularly grand event. On November 10, 2020, the third China International Import Expo, held at the National Exhibition and Convention Center in Shanghai, came to a fulfilling close. This year, Hainle Winery's exposition appearance was filled with good memories and pleasant results.
Hainle Winery: Highlight moment at the third Import Expo
         
Head Consul of the Shangai Consulate General of Canada Mr.David, Commercial Consul Mr.Doug, Mr.Albert, Counselor of the Embassy in China Mr.Pingjiang Lei, British Columbia commercial representative, as well as a representative from the China Council for the Promotion of International Trade, came in person to show their support, encouraging Hainle Winery to once again achieve great results at the Expo.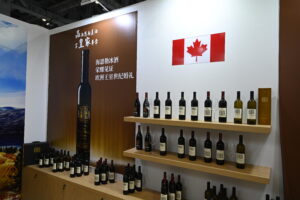 Hainle's representative legendary ice wine series, multi-award-winning red, white, and liquor series in full view at the Import Expo.
Both foreign and Chinese customers were attracted by the unique charm of Hainle's ice wines.
Frequent news of success during the Import Exposition, contracts were extended, and the cumulative contract value surpassed expectations.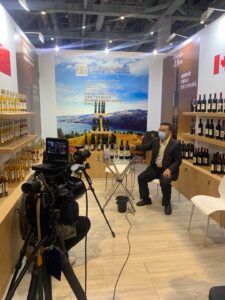 China Internet Information Center, People's Daily, China Radio International, China Central Television (CCTV) Extraordinary Craftsmen column and other mainstream media interviewed Hainle, introducing Canadian ice wine and organic wine culture to the Chinese audience.
China Internet Information Center published an interview report on Hainle Winery.
China Finance Network (financeun.com) chose an image of Hainle Winery at the Import Exposition's trade investment meeting as an article cover.
For the future of Hainle's legacy, the future is even more promising! Hainle Winery will continue to strive to bring wine enthusiasts quality of life and exquisite taste!